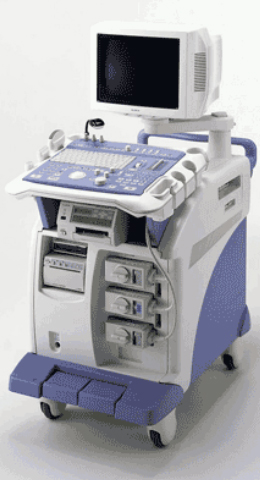 Sistema ecografico
ALOKA ALPHA 5
ALOKA
Specifiche tecniche:
The ProSound Alpha 5 is Aloka's latest advance in digital diagnostic ultrasound for the operating room.
Aloka's ProSound technology transmits and receives noise-free signals providing diagnostic information in a pure sound field. Aloka's advanced microcircuit technology provides for large-scale integration of the electronic circuit allowing for the creation of a high-density digital front-end. The resulting crisp and clear image contributes to more efficient and accurate examinations.
Aloka's surgical HST transducers suppress side lobe artifacts three-dimensionally due to high-density transducer element fabrication and beam management in the elevation direction. This allows the fundamental ultrasound beam to be sharper and closer to the ideal beam shape than with conventional transducers. The result is higher resolution images with substantially less artifact.
Aloka's high density digital front end allows a wider dynamic range for superior contrast resolution. With a 12 bit digital beamformer ultrasound images are inherently sharper and more detailed.
Five ultrasound transmission beams per piezoelectric crystal combine to display truer, less interpolated, more complete image of the desired anatomical structure. The individual views are automatically combined, then artifact is automatically subtracted and real structures enhanced.
Ci siamo prefissati di offrire ai nostri clienti efficaci
soluzioni unendo qualità, competenza e continuità.
Offriamo, oltre alla gamma dei prodotti standard,
una gamma di ottimo usato e ricondizionato.
T. +39 045 6971034
F. +39 045 6970395
Via XXVI Aprile, 28
37050 Oppeano (VR)
T. +39 049 0981222
F. +39 049 0981223
Via Salata, 14
35027 Oltre Brenta (PD)