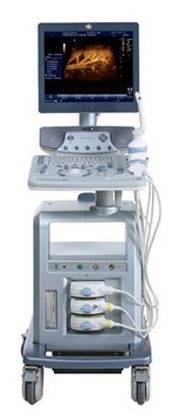 Sistema ecografico
GE LOGIQ P6
PRO
Specifiche tecniche:
Product Description
Due to the skills and proficiency of experts, we are enormously praised for providing a superior quality of GE Logiq P6 Pro Color Doppler Machine  to our valuable customers.
Other Details:
From GE's LOGIQ line of ultrasonography machines comes the LOGIQ P6 Pro Ultrasound Machine. With the latest in diagnostic imaging technology, the P6 Pro comes with a 17″ LCD display, Patient Information database, hard drive image archive, and vital monitoring options. With new and used ultrasound machines for sale, National Ultrasound will carry the right ultrasound for your clinic or practice.

Features:
3 Active Probe Ports
50GB Hard disk
Realtime Triplex mode at any depth & any PRF,
Automatic Optimization, ATO, TGC, ASO, ACO,
Coded Harmonic Imaging
Coded Excitation
Virtual Convex
Patient Information Database
Image Archive on CD/DVD and Hard Drive
Easy Backup to Media for data security
TruAccess Raw Data Processing and Analysis
Realtime Automatic Doppler Calcs, OB Calcs, Fetal Trending, Multi Gestational Calcs, Hip Dysplasia Calcs, Gynecological Calcs, Vascular Calcs, Urological Calcs, Renal Calcs, InSite Capability, On-board electronic documentation (CHM/XPS format), MPEGVue, Key macro, Network Storage, Quick Save, B-Steer, CrossXBeam, SRI (speckle reduction imaging).
Timeless Results:
Clinicians around the world have made LOGIQ P5 one of the most widely accepted GE ultrasound systems. Building upon this solid platform, we continue to extend the performance and clinical capabilities of the LOGIQ P5.
The affordable, full-featured LOGIQ P5 delivers exceptional
performance across many care areas – meeting the demands of specialties such as general imaging, women's healthcare and urology. And the LOGIQ P5 features many breakthrough technologies migrated from our advanced ultrasound platforms.
Leading capabilities:
With a balanced combination of technology and performance, the LOGIQ P5 delivers exceptional image quality to meet your clinical needs. Many advanced applications from our high-end ultrasound systems – such as Speckle Reduction Imaging (SRI), CrossXBeam imaging, Auto Optimization (AO) and Phase Inversion Harmonics – bring you enhanced image quality.
Enhanced 4D performance:
The LOGIQ P5 gives you affordable access to high-quality 4D imaging. A new, advanced SRI algorithm and streamlined workflow deliver easier and faster 4D studies that result in improved image quality.
Advanced transducer technology:
Single-crystal probes offer ultra-wide bandwidth and high sensitivity for better cardiac imaging
A great fit for many specialties:
The LOGIQ P5 fits in well across a broad range of clinical applications and specialty areas. Specialized transducers, high-resolution image quality and convenient workflow tool make it well suited for urology. Its 4D workflow, exceptional image quality and tailored report packages are ideal for OB/GYN.
Ci siamo prefissati di offrire ai nostri clienti efficaci
soluzioni unendo qualità, competenza e continuità.
Offriamo, oltre alla gamma dei prodotti standard,
una gamma di ottimo usato e ricondizionato.
T. +39 045 6971034
F. +39 045 6970395
Via XXVI Aprile, 28
37050 Oppeano (VR)
T. +39 049 0981222
F. +39 049 0981223
Via Salata, 14
35027 Oltre Brenta (PD)